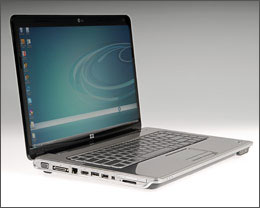 HP has decided to step up there game in the laptop market by offering a new line of laptops this summer. Out of the new line of laptops though, the HP dv5t is the one for me. The dv5t combines the best of both worlds by offering a reasonable price and top quality performance. The dv5t starts out at the cheap price of only $749.99, but depending on what parts you want you can see the price start to hover around $1000 pretty quickly. Right now the barebones kit is just about as good as its going to get at this point in time.
Here is a quick spec sheet:
• Genuine Windows Vista Home Premium with Service Pack 1 (64-bit)
• Intel(R) Core(TM)2 Duo Processor P7350 (2.0GHz)
• 15.4″ diagonal WXGA HD BrightView Widescreen Display (1280 x 800)
• 2GB DDR2 System Memory (2 Dimm)
• Intel(R) Graphics Media Accelerator X4500
• 250GB 5400RPM SATA Hard Drive
• 6 Cell Lithium Ion Battery
Of course I would never recommend going with a factory spec computer, well because that would be just too easy, but really you should think about upgrading the spec list to your own needs. A good case for this computer would be if you want to play video games on your laptop. This laptop is the best video game laptop I have seen all year for the price. With just a couple of upgrades you can get your HP dv5t running high end games like crisis. To play video games on your HP dv5t I would recommend upgrading to the 9600m GT Video Card ($150), P8400 (2.26 GHz) processor ($50), and maybe even go with the upgraded 1680 x 1050 Display ($125). The upgrades might seem expensive, but if you look at the alternatives such as Alienware or XPS laptops you will see that you are saving a lot of money.
This laptop is by far the most versatile laptop I have seen. You can also convert the HP dv5t to be a great movie player. The dv5t supports a Blu-Ray player upgrade option for only $200 and make sure to upgrade the screen to 1680 x 1050 to really enjoy the quality of blu-ray. Also if you are thinking of upgrading your Hard Drive because of the size of the blu-ray movies I would recommend just buying 500GB external Hard Drive so that you save money, get more space, and keep your computer clean of bloat ware.
After looking into the HP dv5t I can say to you without a doubt that I would recommend this laptop to anyone who is looking for an affordable laptop, gaming laptop, and even a movie player laptop.